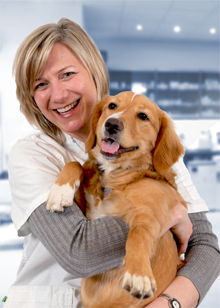 Dr. Marie-Claude LeBlanc,
DVM
After studying biology at Université du Québec à Montréal and agriculture at McGill University, I graduated from the Faculty of Veterinary Medicine at Université de Montréal in 1999. I like to challenge myself, so I moved to the United States (Virginia Beach and Boston) after finishing my studies. It was a professionally and personally rewarding experience I look back on fondly.
I came back to Quebec in 2002 and became the co-owner of Monkland Veterinary Clinic and the sole owner in 2006. Since then I have had the privilege of meeting and getting to know some exceptional pet owners and the most incredibly sweet dogs and cats. I love what I do, but more than that, I love my patients and clients. I am so lucky to have such a great career!
With the goal of offering a larger spectrum of treatments to my patients I studied veterinary osteopathy and received my diploma from IMAOV (Institut de Médecine Alternative et Osteopathie Veterinaire). This discipline can be used in addition to traditional medical treatments and for many different medical conditions. For more information, visit AVMAC.org.
Outside the clinic, you'll find me on the mountain bike trails or hiking with my adopted rescue dog Louba. I also have two wonderful cats named Fuego and Peter who are very patient with their new pup!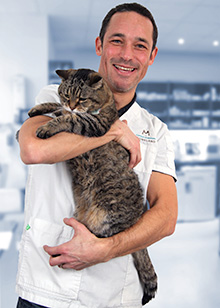 Dr. Philippe-Olivier Mozer,
DVM
I attended the Maisons-Alfort National Veterinary School in Paris to study veterinary medicine from 1989 to 1993. Afterwards I completed an internship in equine medicine at the Faculty of Veterinary Medicine at the University of Montreal, and then proceeded to practice equine and small animal medicine in France. I returned to Québec in 2001 where I have been practicing small animal medicine ever since. I joined the team at the Monkland Veterinary Clinic in 2017.
I love my profession because it offers the opportunity to practice many different disciplines, and I developed a particular interest in surgery. I also appreciate the contact I have with my patients as well as my exchanges with their owners, making my work an enriching experience from a personal and professional point of view. I am adept at cycling, I enjoy swimming to relax, and I love skiing in winter and cooking all year round.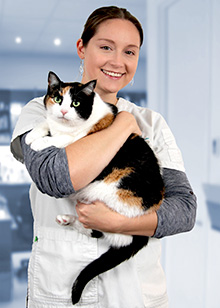 Dr. Nathalie Vary,
DVM
After studying in Animal Biology at McGill University, I graduated in 2014 from the Faculty of Veterinary Medicine, University of Montreal. I then completed an intensive one-year small animal internship in a hospital in Toronto, followed by working in veterinary emergency center in Montreal for a year. I joined the team of the Monkland Veterinary Clinic in 2016.
I am very passionate about veterinary medicine, I have a specific interest in internal medicine and oncology. I truly appreciate helping people and the contact with my patients. I do believe in continued learning; I thoroughly enjoy expending my knowledge on the endless aspects of veterinary medicine. 
Outside the clinic, I enjoy hiking, biking and camping in the summer: and cross country and skating in the winter. I have two amazing cats, Bajou and Carmen, that bring so much joy to my life!